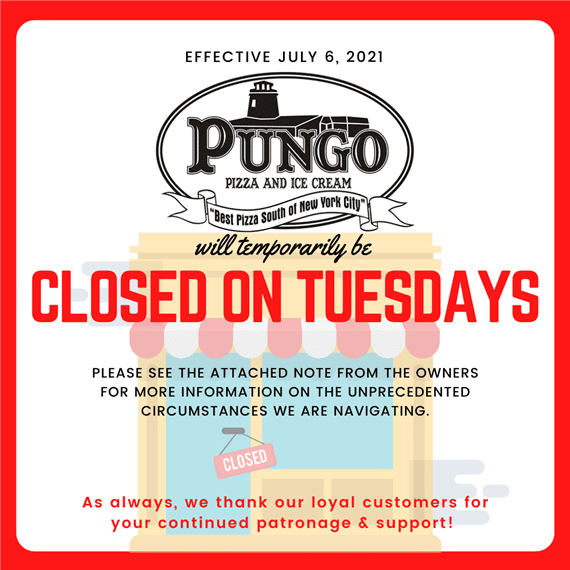 COVID-19 UPDATES
Here at Pungo Pizza & Ice Cream, we are now & always have taken our current pandemic situation very seriously! We will use this page to keep our community updated on how we are taking extra precautions to keep our staff & community safe.
All of the following practices are in accordance with guidelines presented to us by the CDC, Virginia Department of Health & Govenor Northam. This is beyond our control & we are doing the very best we can to continue to serve you the food you know & love!
---
Due to a current staffing shortage, Pungo Pizza has made the decision to temporarily close on Tuesdays, in addition to our modified hours of operation. We sincerely regret any inconvenience this may cause and will resume to normal daily operation as soon as possible.

Our hours of operation are:
Monday 11am-8pm
Tuesday CLOSED
Wednesday 11am-8pm
Thursday 11am-8pm
Friday 11am-9pm
Saturday 11am-9pm
Sunday 11am-8pm

Our kitchen staff has been working countless hours, working diligently to bring you, our guests, the best service and food they can. However, there comes a time where we, the owners, need to put our staff first. We feel they cannot sustain the constraints given them.
Again, this is a temporary solution to assist in the coverage of our restaurant for us to staff our kitchen adequately for the days we are open. We are still facing staff shortages and are currently seeking solutions to this challenge. Once we hire and train staff, we will reopen on Tuesdays.

We continue to appreciate all support; past, present and future from the most amazing guests we could have ever hoped for in the 23+ years we have been in business!
Steve & Suzette Lynn Ray & Angie Brown


We kindly ask those not vaccinated wear a mask when entering our restaurant.




Curbside Pickup available for any togo order!
How & where we are able to seat our dining areas is limited. Large parties of 6 or more may have to be split up at neighboring tables. We will do our best to accomodate all guests comfortably. Please see our "Parties" tab to find out more information on scheduling large parties for birthdays, teams etc.
Additionally, wait times may increase at peak hours. We are currently not seating our deck area as that area is being used to accommodate those picking up togo orders.